On the occasion of The International Day of People With Disabilities, MSF UAE team is delighted to invite you to a panel discussion about the value and role of the inclusion from the humanitarian perspective. 
The interactive discussion will take place on December 06 at 1:00 pm Dubai time, and it is hosted by the International Humanitarian City in Dubai (IHC).
The event will be conducted by Patrice Vastel, MSF's Project Coordinator "The Inclusion of People With Disabilities" and Habiba Amin, MSF's International Board Member. 
In the introduction of the discussion, Khalid Alawadhi, Director of Membership and Partnership Department at the International Humanitarian City in Dubai will do a brief about the IHC's Hackathon that focused on the inclusion of People of Determination, presented to the UAE communities in March 2021 through DIHAD Conference & Exhibition's community activities. 
About the speakers: 
Habiba Amin trained in clinical medicine and surgery and has a degree in Psychology from the University of Nairobi, Kenya. Having worked with MSF on and off since 2006, Habiba has held several roles in that time, including Deputy Medical Coordinator, Field Coordinator, Emergency Field Coordinator and Medical Referent across displaced people and conflict settings, including in Somalia, South Sudan and Kenya. Among her work, Habiba established the comprehensive care centre for people living with HIV in Kibera, in the slums of Nairobi, Kenya. She was elected to the International Board in June 2019.
 Patrice Vastel is currently and since January 2018 the coordinator for the international project on inclusion of persons with disabilities in the organization "Médecins Sans Frontières" (MSF – Doctors without borders). He is also the author of an international resolution on inclusion of persons with disabilities (PWD) in MSF which has been adopted by the organization in 2016. Educated as an Engineer and Anthropologist, Patrice Vastel started in MSF in 1993. He worked along more than 20 years in different assignments and countries and in the Norwegian headquarter of MSF where he was General Director in the period 2003-2011. Patrice Vastel has also worked for the Atlas Alliance, a Norwegian organization specialized in development aid for persons with disabilities. He is a trained facilitator for disability inclusion and has been providing trainings on inclusion to several Norwegian organizations. Back in MSF since 2016, he worked with undocumented migrants before joining the Inclusion project. He is also a member of the Norwegian association of the hard of hearing.
Register now: 
More Events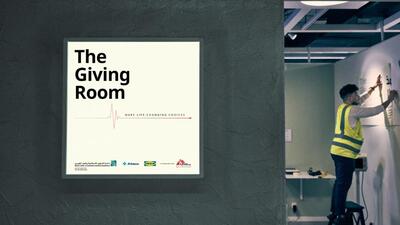 Past Event
Watch the recording
IKEA Dubai Festival City
Past Event
Watch the recording
Cinema Akil in Dubai