MSF has participated in "The International Congress of Nurses" that was hosted this year in Abu Dhabi, UAE. 
From 2 to 4 November,  over 4'500 participants from 117 countries were virtually connected under the theme, "Nursing Around the World". 
MSF displayed interviews with  MSF's nurses from different countries. We invite you to watch the full version of the interviews & share your messages about the role of nurses in conflicted zones. 
Read more:
Yesterday, a 25 minutes documentary was displayed during the @ICNurses in #AbuDhabi that features voices of 8 #MSF #nurses in #Iraq, #Yemen #DRC, #SouthSudan #Myanmar #Nigeria #CentralAfricanReuplic. Stay tuned to watch parts of the documentary, produced by @MSF_UAE. pic.twitter.com/dD5b5uwYoE

— MSF UAE (@MSF_UAE) November 4, 2021
ICN President @AnnetteMKennedy to lead high-level discussions at the virtual #ICNCongress from 2-4 November among other top-notch speakers! Don't miss it, you're still in time to register: https://t.co/J5L05XFUFT https://t.co/rLPPMK9RSF

— ICN (@ICNurses) October 27, 2021
More Events
Past Event
Watch the recording
Expo Dubai 2020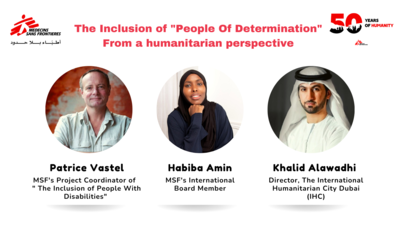 Past Event
Watch the recording
Online