Sara is in Kinshasa, Democratic Republic of Congo, where she and the team have been working on a new digital campaign to fight stigma and increase access to HIV treatment…
On an early morning in November, a knock at my door. They were here. A dance troupe, a film crew, a graffiti artist, two Congolese hip-hop stars and five HIV activists, one of whom was heavily pregnant. All the planning, the recordings, the rehearsals, it was all culminating in this. We just had to hope it didn't rain, and that the baby didn't make a sudden appearance!
I am a digital communications specialist working for MSF / Doctors without Borders in the Democratic Republic of Congo. This all started months back, at MSF's 42-bed AIDS unit in Centre Hospitalier Kabinda in Kinshasa, the capital city. The hospital provides free diagnosis and treatment for people with AIDS, a syndrome which occurs at the late stage of HIV, if the virus is not controlled.
When people get diagnosed early and stick to their treatment programme, the outlook for someone infected with HIV is good. Medicines called 'anti-retrovirals' work to reduce the amount of the virus in the blood to levels so minute that it cannot even be detected. With proper follow-up and monitoring, this means that people can go on living their normal, healthy lives.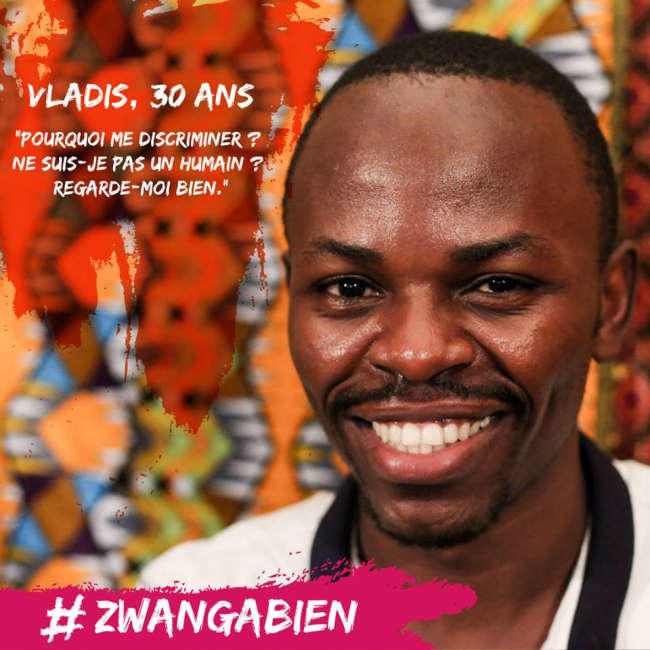 Unfortunately, however, many of the patients coming to the hospital were arriving long past the time when anti-retrovirals could have helped them. These patients were so sick that on arrival, many weighed less than 40 kilograms (around 88 lbs). Some weighed less than 30 kilograms (around 66 lbs). Around two thirds were dying within 48 hours of arrival.
The MSF team decided to investigate what was behind this. Why weren't young people getting tested and starting on treatment earlier?
The team conducted a study that showed that stigma, a lack of accurate information, and economic difficulties were the main barriers. There were lot of myths about the illness, including that HIV was a death sentence, or that only religion could help and so people should throw their pills away. There was also a lot of self-stigmatisation, with people in denial, hiding their condition or refusing to accept their diagnosis rather than seeking help.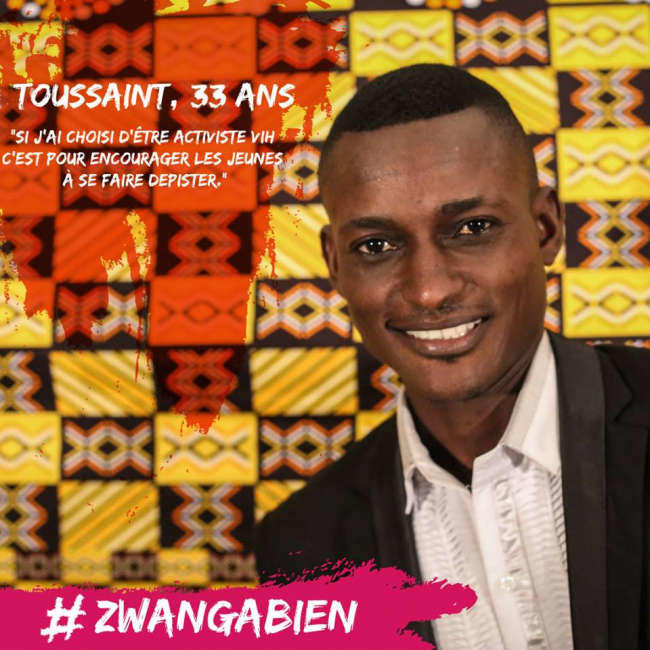 In Kinshasa, MSF partners with with Jeunesse Espoir, a group of local activists living with HIV. The name means 'Youth Hope'. Together we came up with an idea…
We wanted to challenge the visual culture around HIV. People here are already saturated with messages around safe sex and taking pills, public health advertisements that combine images and text to present an integrated message about transmission etc. Images of very ill, abandoned patients have been used for years, contributing to this culture of fear around HIV and a confusion between HIV and AIDS.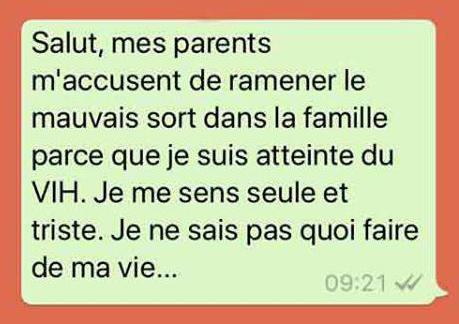 I wanted an innovative behaviour change campaign for MSF here in DRC to push for new practices of information dissemination, with a new view on HIV, where artists and activists can create and interpret the world of their image, exploring photography and visual culture as mediums of empowerment for wide-reaching social change.
Could this work for the urban, connected young people in Kinshasa?
Hip-hop is everywhere in Kinshasa. In the clubs, on the street, on the radio, playing from people's phones. If we were going to do this, hip-hop would be the way to make it work. But it's not exactly something MSF specialises in. We were going to need help.
I contacted a journalist friend of mine about Lexxus Legal, a star of the Kinshasa hip-hop scene, and someone who had done some advocacy work around HIV before. Lexxus has a massive social media following of exactly the kinds of young people we were trying to reach. Lexxus would be perfect.
"Let me see what I can do," said my friend.
Thirty minutes later we were in Lexxus' house.
As we told him our plan, Lexxus was sceptical. What we were proposing was a music video, featuring real people, dancing and singing openly on camera about having HIV.
"It's impossible," he said. "You'll never find anyone willing to do it."
Stigma and fear about HIV are strong in Kinshasa. But what Lexxus didn't know was that we were one step ahead. Jeunesse Espoir activists share their stories with local communities and religious groups to reduce stigma and help people in Kinshasa to access the life-saving treatment that they so urgently need. Five of them had already decided to be part of the campaign.
Sista Becky, one of the few big female hip-hop stars in Kinshasa, had recorded with Lexxus before, and was an obvious choice for the project. Together they started working in the studio with activists Toussaint, Vladis, Julie, Jeancy and Paulette.
It was the first time the activists had sung in a studio, everyone was very excited and happy at the same time. I remember Jeancy telling me this is what he had dreamt of when he was a little boy, to go on TV and sing. Julie was seven months pregnant and was determined that people should see that a woman with HIV can have a healthy pregnancy and give birth. You could feel that they were really in the right place.
It was coming together, but we still needed dancers. That's when we found out about SIDANCE, a brilliant dance troupe who travel around Congo raising awareness of HIV.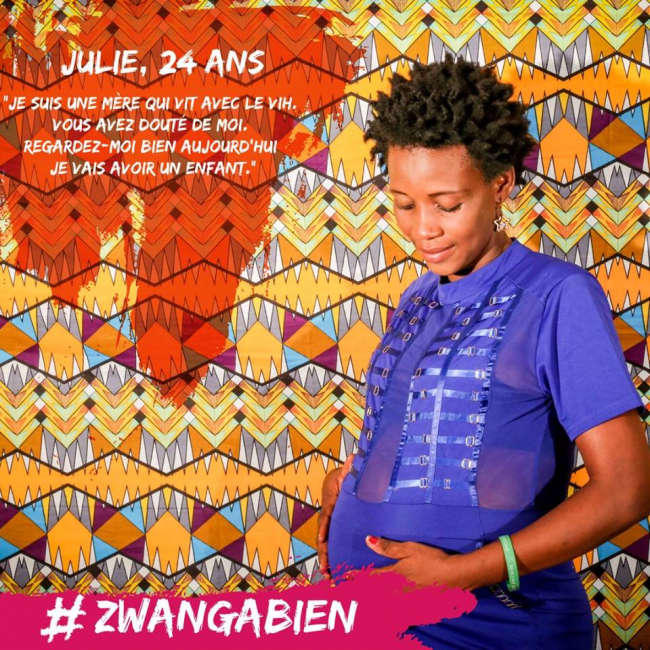 After all the preparations, we shot the video in just one day. It didn't rain, and 'Mama' Julie gave birth just four days later. She called me in the night to tell me, I'm going to the hospital. I couldn't hide that I was a bit worried, but she finally sent me a pic of her little boy and the day after I went straight to see her. Her little boy is looking so well!!!!
Since we launched it the video has been watched on Facebook over 52,000 times, and played on Kinshasa radio and TV stations. Lexxus Legal and Sista Becky have given interviews about their involvement, and after getting tested themselves, they shared the results on Facebook to encourage other people to get tested too.
Although we hope the video challenges some of the main myths about HIV, we know people need practical advice too. The campaign includes Q&As and locations of clinics in Goma and Kinshasa where people can get tests and treatment.
We're also giving people the opportunity to ask the activists questions over Facebook, or to text their questions to us on Whatsapp. People have been really engaged, and Dr Gisèle Mutshinia, who works at the hospital, has been staying up late at night answering people's concerns. People have been asking where they can get tested or how they can start treatment, but there have also been lots of questions about sexual behaviour and reproductive health while you are living with HIV.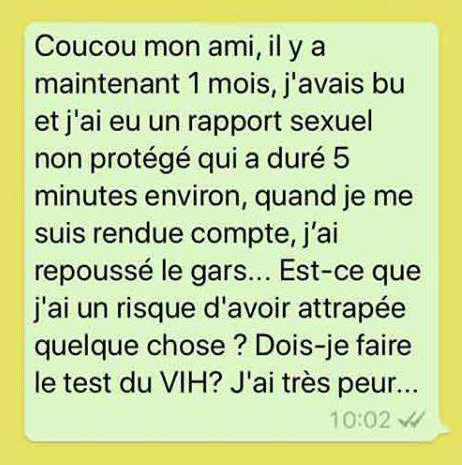 This week has been really busy, because as well as the music video, we're also holding a free concert this Saturday with Lexxus Legal and Sista Becky. It's going to be in the local neighbourhood where MSF supports a health centre, and during the concert people will be able to get tested and referred for treatment. We've got local hip-hop groups playing, and of course the team will perform the song for the video. The title means 'Look at me well', or 'Take a good look at me'.
One night recently I received a message from one of the Juenesse Espoir activists. It said that on one day alone, five people had come to them and said they wanted to get tested, after they heard the song on TV. We'll have to wait to see if the song and the campaign will make a difference to people's behaviour on a wider scale, but so far the response has been really positive!