My first three weeks after arriving in Bentiu have been full of adventure, but little did I know what interesting experiences would await me as I got ready to start my first psychosocial stimulation group at the hospital here.
An ongoing crisis
Bentiu is a Protection of Civilians (PoC) site – a camp for people seeking protection from violent conflict in the region. It is home to about 100,440 people and is also where an MSF hospital is located.
People here have been living through a protracted and ongoing crisis for an extensive period. And, while the majority do cope in situations of chronic disaster, a significant number of people will develop mental health problems.
Common disorders in these kinds of environments include post-traumatic stress disorder, psychosis, depression, suicidal behaviors, and various forms of substance abuse.
After a disaster
Some of the direct threats facing the people of Bentiu have reduced somewhat since the peace agreement here in South Sudan. However, the people here, like many who survive disasters, continue to face precarious living conditions.
After a disaster, communities can be hit by displacement, breakdown of family structure, lack of services, poverty, or an increase of violence. All of this can lead to many psychosocial problems at for individuals, families, communities and society.
In places where these issues are ongoing, mental health problems and disorders are often underestimated and undertreated, especially if the mental health problems themselves are chronic.
Our team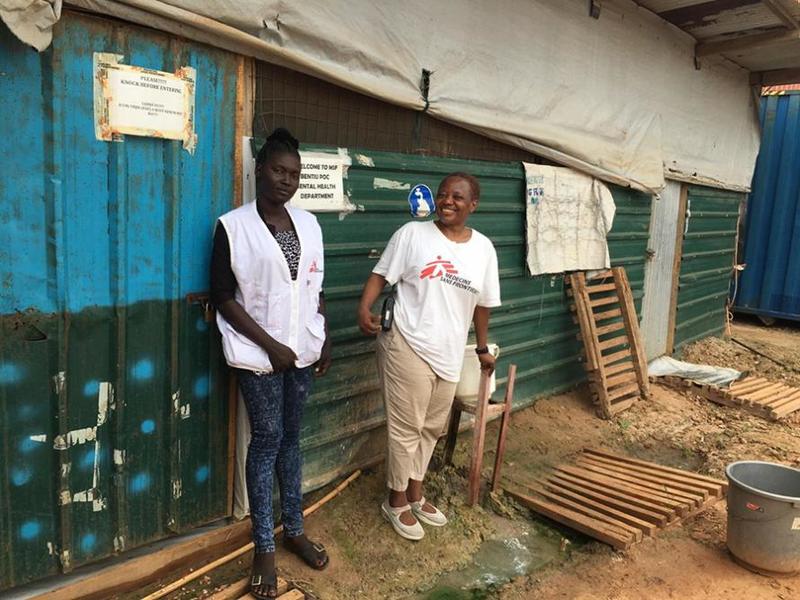 The mental health department here in Bentiu consists of two counselors and a mental health officer.
The department offers a range of services. For example, the team gives one-to-one supportive counseling to patients admitted in all the wards in the hospital, and provides bereavement counseling to families when a loved one passes away. With the support of two clinical officers, the department also provides psychiatric counseling and medication management.
We also provide movement and play therapy. Stimulation is vitally important for children's mental health and development, however, in a busy hospital, the focus is on medical matters, leaving few opportunities for children to engage, explore or interact.
When the music started
A few days ago, I led my first psychosocial stimulation group for patients at the hospital.
Once the music started, more patients and their babies came to observe and see where the new sounds were coming from. I invited them to join the few already seated on the floor in the play area.
Some of the children began to move in rhythm to the music, while others played peek-a-boo on their carer's shoulders... others walked, crawled and came over to join in the movement as we sweated away in the afternoon heat without any worry of why anyone of us was there
Preteens who were caring for even younger children brought their little ones along. Other patients joined, as well as those who couldn't bring the people they were looking after. Everyone came to check out the music.
We had little ones with bandages covering where intravenous lines had been used on the backs of their hands or taped to the corner of their heads. Some of these young children were fussy, others were curious, while others were just plain shy or too tired from being ill and living in the hospital for extended periods of time.
We started by moving slowly to the beats of the music. Gradually we added the clapping, then the dance moves, which got everyone's attention.
It was all about curiosity and wondering what the new African-looking international staff member was up to…
There was a lot of laughter from the older children and some little ones who found it funny that a grown-up was dancing in the middle of the day in the hospital.
Movement as therapy
It could just have been the novelty of having a person dancing in the middle of a group of grown-ups and children, but this was different.
Different, because of the intentionality behind it: to stimulate the children's minds, to help their eye coordination and to get them moving. All this was achieved by the clapping, the movement, the eye contact and the different happy faces made at the little ones to illicit a reaction.
Some of the children began to move in rhythm to the music, while others played peek-a-boo on their carer's shoulders. Others walked, crawled and came over to join in the movement as we sweated away in the afternoon heat without any worry of why anyone of us was there.
One little girl, who was paralyzed on her right side, crawled off her mother's lap over to where the speaker was standing and tried to stand up next to it, exploring where the sound was coming from as she moved her body to the music.
The girl's mother tried to have her use her non-working hand as she explored around. She refused but was able to move it and hold onto my finger as we moved slowly to the sound of the music. She had a beautiful laugh and so did her mother.
We are all one
This group was already set up as one of the activities within the project when I arrived in Bentiu, but this was the first time I'd led it. It was also the first time we'd deliberately used movement therapy as well as the usual coloring and Legos.
Since then we've started to use music and movement therapy with families every day.
The children and caregivers who participate come from all departments of the hospital. We have a deaf patient who always attends the group and uses Lego to make expansive buildings while observing the movement .
As well as providing a stimulating environment for the younger children, the group also helps the adults and older children by giving them something else to think about beyond their sickness. It provides relaxation and reduces stress in a room filled with children coloring, dancing and everywhere the sound of music.
In those moments, all that matters, in spite of the heat, is that we are all one in movement and rhythm.
Top image shows the MSF facilities in Bentiu, photographed in 2016.