A brutal attack on Kreinik town, some 60 km east of the capital of West Darfur, in April 2022 left more than 200 people dead, many more injured and tens of thousands displaced from their homes. The town's hospital, which was supported by MSF, came under attack; two hospital staff and eight patients were killed, and the hospital pharmacy was looted, causing serious damage to health services in the region. An MSF team returned to Kreinik in December 2022 to rebuild the hospital. Working fast, they renovated its emergency room, maternity ward and paediatric ward to start treating patients as quickly as possible. MSF project coordinator Dr Prince Mathew takes up the story.
"West Darfur in Sudan is very volatile and Kreinik has been particularly affected by violence over recent years. What looks to be very calm today can be incredibly violent tomorrow. Violence affects everyone, regardless of where they are from.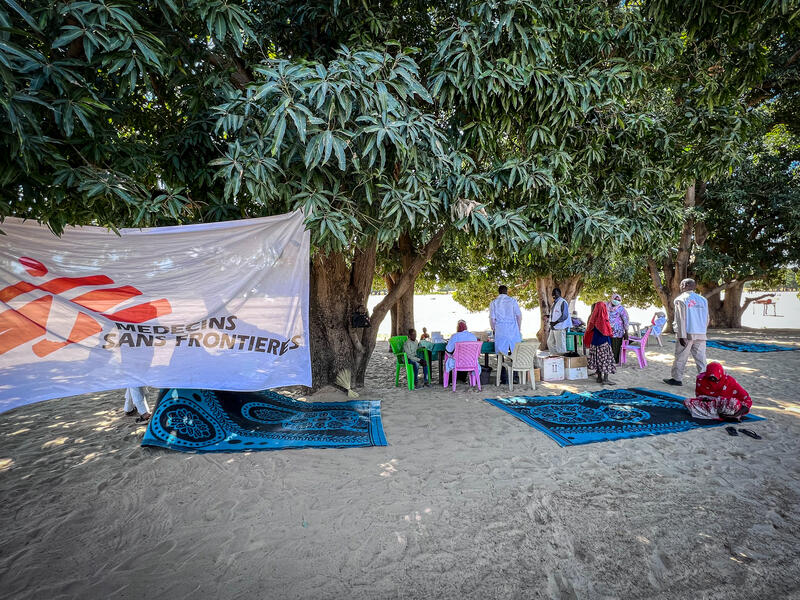 MSF
Kreinik town today is a burned-out spectre after last year's attack. Hundreds of houses were completely burned down. Many people live in densely populated displacement camps surrounding the hospital. Public spaces and schools are now filled with hundreds of tents and makeshift shelters. It's dusty, it's hot, it's humid. Almost all the trees were burned down in previous attacks. The only water supply is by donkey carts.
People in both the town and rural areas face difficulties getting to markets to buy food. On market days there have been attacks on people coming into town. For days after such violence, the situation in the area remains volatile and tense.
Many farming communities are also unable to access their farming lands outside the area where they live, while pastoralist communities are unable to graze their cattle, which is essential for their livelihoods. Along with 300 per cent inflation in Sudan, it has made life incredibly difficult.
An MSF team returned to Kreinik quite soon after the attack, running mobile clinics in the villages and nomadic settlements surrounding the town. We are seeing increasing numbers of malnourished children coming to our mobile clinics. We refer many of them to El Geneina or Kreinik hospital.
Kreinik hospital is the only secondary healthcare facility for about 480,000 people. After the attack, key services were disrupted, and the hospital was overwhelmed by the number of patients seeking healthcare. There were few doctors or nurses to provide treatment.
Our first step on returning to Kreinik in December 2022 was to negotiate safe access on the road from El Geneina, where there is a lot of looting and armed robberies.
We set out to directly engage with the communities living along that road, meeting with youth groups, elders, women; we also negotiated directly with all the armed groups in the area to explain our neutrality and our intention to support the hospital in Kreinik and providing free quality healthcare available to all.
Community engagement is vital: if we don't know what a community needs, we will never be able to serve them in the way that is most appropriate. We went out to meet them, we had meals with them, we sat down with them and listened to what their primary needs were. We asked for feedback on our mobile clinics and what we could do better.
They told us that the biggest needs were trauma care for accidents, gunshots and other emergencies. They highlighted the need for women to have a safe place to deliver their babies and the need for paediatric care.
We set up our project in Kreinik hospital very fast. The flow of patients never stops, and it is important to be able to provide healthcare as rapidly as possible, because saving lives is important every single day.
Our priority was the emergency room. In a place where there is a lot of violence, every life and every second counts. We then quickly scaled up and opened the maternity ward – already our first few babies have been born there. We're on track to open the paediatric ward very soon.
Many of our staff have worked with MSF in other projects and bring a tremendous amount of devotion and experience with them. Together we've done amazing work in being able to set up the hospital together with the ministry of health hospital team so quickly. We set aside our usual roles as doctors or nurses. We cleaned up and repainted the facility together. We unloaded trucks full of medical equipment, medical items and surgical kits.
Many of the team are from West Darfur. Some lost family members in last year's attack. For them, rebuilding the hospital was personal and involved a lot of emotions.
We also established a referral system between Kreinik and the general teaching hospital in El Geneina, the capital of West Darfur. There will always be patients with complications that we are unable to treat in Kreinik. We wanted to make sure that referrals could take place, day or night and quickly, with an MSF nurse and medical equipment on board the ambulance so that a life can be saved.
Most people in Kreinik use donkeys, horses and camels to get around. Many of our patients arrive on donkey-cart ambulances as motorised transport is expensive and not easily available. This mode of travel is slow and brings with it security considerations, especially after dark. This is why we run mobile clinics outside town – we go to the community rather than them coming here. We also have a team of trained community health workers who are available 24/7 and are a lifeline in their own villages.
On 22 January we reopened the emergency room, where accidents, gunshot wounds or violent incidents can be treated around the clock. We have also opened a new maternity ward where babies can be born safely, and soon we will open the new paediatric ward. A first baby was born on Thursday 26 January. The mother had lost a baby previously because she could not afford the hospital fees. She was very happy that the Kreinik maternity opened and is free of charge. Two weeks later she came with her baby girl she had named Nemat, for routine immunisation (EPI) and post-natal care follow up (PNC). We're hoping that our presence in Kreinik will contribute to an improvement in healthcare for all the people here who most need it."
Within its first week of reopening, the MSF team together with the ministry of health hospital staff in Kreinik hospital's emergency room treated 16 patients, mainly for gunshot injuries and burns. Since 22 January, MSF midwives have helped 9 women to give birth safely in the hospital's maternity ward.
Meanwhile MSF teams are continuing to run mobile clinics in the nomadic settlements in Galala, Mogshasha the Kreinik area, and in Wadi Rati and Gelcheck south of El Geneina city, and to transfer patients in need of specialist medical care to El Geneina teaching hospital.